Rabindranath Tagore
(1861 - 1941)
---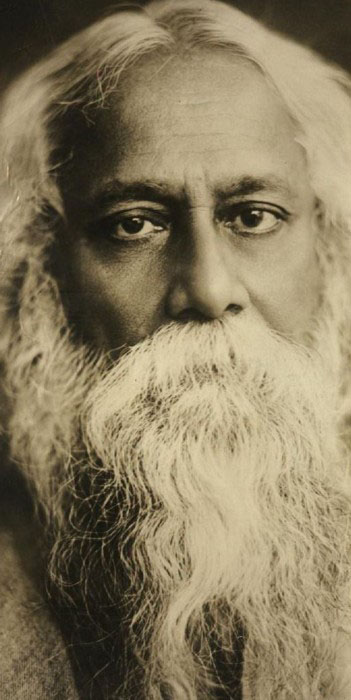 ---
Tagore has been a wayfarer towards the same goal
as ours in his own way.
SRI AUROBINDO
---
Gitanjali n° 35
Where the mind is without fear and the head is held high;
Where knowledge is free;
Where the world has not been broken up into fragments by narrow domestic walls;
Where words come out from the depth of truth;
Where tireless striving stretches its arms towards perfection;
Where the clear stream of reason has not lost its way into the dreary desert sand of dead habit;
Where the mind is led forward by thee into ever-widening thought and action —
Into that heaven of freedom, my Father, let my country awake.
---
Sri Aurobindo's remarks:
«Tagore, of course, belonged to an age which had faith in its ideas and whose very denials were creative affirmations. […] Now all that idealism has been smashed to pieces by the immense adverse Event and everybody is busy exposing its weakness, but nobody knows what to put in its place. […] Until new spiritual values are discovered, no great enduring creation is possible.»
«The entrance of the pure Celtic temperament into English poetry through the Irish revival is likely to do much; the contribution of the Indian mind in work like Tagore's may act in the same direction.»
«The poetry of Tagore is already a new striking instance of what differently seen and followed out might have been a specifically philosophic and religious truth, but here turned into beauty and given a new significance by the transforming power of poetic vision.»
«Tagore's Gitanjali is not in verse, but the place it has taken has some significance.»
«Tagore's translations of his lyrics have come in as a powerful adventitious aid, but are not really to the point in the question at issue; for these translations are nothing but a rhythmically poetic prose and that kind of writing, cadenced prose poetry […]. It is perhaps the only method for the work Tagore intended, a poetic translation of poetry reproductive of the exact thought and spiritual intention of the original»
---
Playthings
Child, how happy you are sitting in the dust, playing with a broken twig all the morning.
I smile at your play with that little bit of a broken twig.
I am busy with my accounts, adding up figures by the hour.
Perhaps you glance at me and think, "What a stupid game to spoil your morning with!"
Child, I have forgotten the art of being absorbed in sticks and mud-pies.
I seek out costly playthings, and gather lumps of gold and silver.
With whatever you find you create your glad games, I spend both my time and my strength over things I never can obtain.
In my frail canoe I struggle to cross the sea of desire, and forget that I too am playing a game.
---