Charles Baudelaire
(1821 - 1867)
---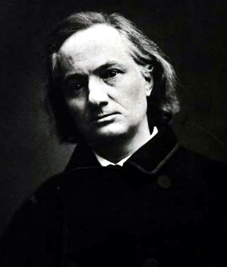 ---
L'albatros
Souvent, pour s'amuser, les hommes d'équipage
Prennent des albatros, vastes oiseaux des mers,
Qui suivent, indolents compagnons de voyage,
Le navire glissant sur les gouffres amers.
A peine les ont-ils déposés sur les planches,
Que ce rois de l'azur, maladroits et honteux,
Laissent piteusement leurs grandes ailes blanches
Comme des avirons traîner à côté d'eux.
Ce voyageur ailé, comme il est gauche et veule!
Lui, naguère si beau, qu'il est comique et laid!
L'un agace son bec avec un brûle-gueule,
L'autre mime, en boitant, l'infirme qui volait!
Le Poète est semblable au prince des nuées
Qui hante la tempête et se rit de l'archer;
Exilé sur le sol au milieu des huées,
Ses ailes de géant l'empêchent de marcher.
---
Sri Aurobindo's remarks:
«Baudelaire was never vulgar — he was too refined and perfect an artist to be that. He chose the evil of life as his frequent subject and tried to extract poetic beauty out of it, as a painter may deal with a subject that to the ordinary eye may be ugly or repellent and extract artistic beauty from it. But that is not the only stuff of his poetry.»
---
Correspondances
La Nature est un temple où de vivants pilier
Laissent parfois sortir de confuses paroles;
L'homme y passe à travers des forêts de symboles
Qui l'observent avec des regards familiers.
Comme de longs échos qui de loin se confondent
Dans une ténébreuse et profonde unité,
Vaste comme la nuit et comme la clarté,
Les parfums, les couleur et les sons se répondent.
Il est des parfums frais comme des chairs d'enfants,
Doux comme le hautbois, verts comme les prairies,
— Et d'autre, corrompus, riches et triomphants,
Ayant l'expansion des choses infinies,
Comme l'ambre, le musc, le benjoin et l'encens,
Qui chantent les transports de l'esprit e des sens.
---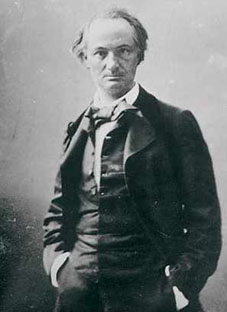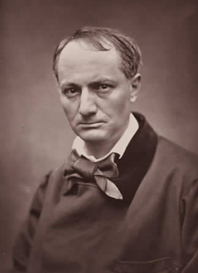 ---